Overview
The border area between Germany, Czech Republic and Poland is characterised by a low level of transnational cooperation between science and industry. Thus, the most important aim of TRANS³Net is to shape conditions for building up a well working innovation system in this tri-national region. This objective will be realised by establishing strong ties and a self-sustaining cooperation between key players of the innovation system and further actors of the scientific, economic and public sphere. By involving all key players relevant for knowledge and technology transfer, TRANS³Net will provide a solution to overcome the multifaceted obstacles concerning transnational cooperation between science and industry.
Network TRANS³Net
The network focuses on the continued promotion of transnational knowledge and technology transfer, in particular
Supporting the successful implementing of knowledge and technology in business
Supporting the strengthening of companies in the regions by an expedited transfer of usable research results
Subject to the availability of funds and the agreement of the partners' authorised representatives, activities will be pursued in the following fields:

Improvement of cooperation for successful transfer
Expansion of the information base for effective transfer
Assistance with the transfer initiation
TRANS³Net plans to achieve its targets in the following ways:

involving other members in the activities of individual members, e.g. German-Polish Innovation Days, Transferweek, East Saxon Engineering Days, Innovation Exchanges
jointly organised events and public relations work to support transnational knowledge and technology transfer (esp. TRANS³net.show in the region once a year)
Using the existing project website (trans3net.eu) to disseminate information about transfer promoters, transfer events, and transfer-relevant funding programmes in the border triangle.
Providing information and disseminating event announcements etc. via partner-websites.
These activities are organised on a voluntary basis and are planned by individual members or by several members working together, participating in the activities and informing the network about them.
On 20th September 2019 the project partners of TRANS³Net officially agreed the continuation of the work in the transnational network on knowledge and technology transfer TRANS³Net. With their signature they officially put the TRANS3Net-memorandum-of-understanding into effect.
Map of Transfer Promotors

The map of transfer promotors provides an overview of the actors and institutions that are active in the transfer process in the tri-national area Germany, Czech Republic and Poland.
Catalogue of Transfer Promotors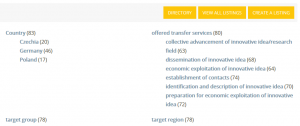 In the catalogue you can search for transfer promotors in Saxony, Poland and the Czech Republic for their range of services and got some more information.
Innovation Portal
The Innovation Portal is an offer of the TRANS³Net network to accelerate and increase the initiation of concrete transfer projects and innovation processes from research to industry.